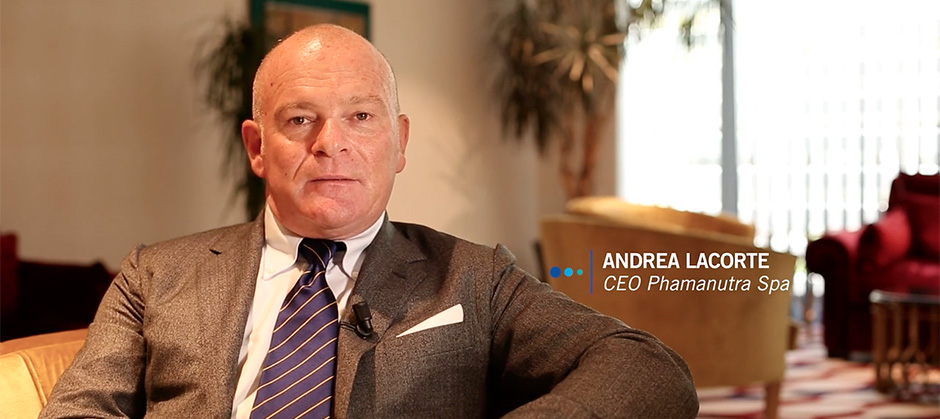 Sucrosomial® Iron: international acknowledgement for Pisa iron.
Andrea Lacorte, CEO of the Pharmanutra Group and exceptional sportsman. A rich portfolio that includes an international expedition to the North Pole in 2013, nutrition, animal feed and the NutraIngredients Product of the Year Award 2016 (NIA).
Andrea Lacorte has been back only a few days from Vitafoods Europe 2016 in Geneva, reference event for the nutraceutical and functional food market which every year hosts more than 13,000 visitors and over 700 exhibitors from all over Europe. During this occasion, his company SiderAL® r.m., the cutting edge of sucrosomial® technology, was overwhelmingly elected READERS 'INGREDIENTS OF THE YEAR by NutraIngredients.com, the magazine of reference for functional foods and food supplements. In the wake of this success we asked him to tell us how his SiderAL was born.
Why Nutrition? Why try to understand and control things that are so specific?
Nutrition has always fascinated me, and I initially focused on animal nutrition. It is surprising how the principles of nutrition are attributable to the same basic concepts also for humans. We are what we eat. The way our bodies work depends on what we put in our mouths. The fascinating point of this matter is to see how something so natural and instinctive as eating can conceal amazing, complex and delicate mechanisms. If you stop to think about it – as someone who loves cuisine, I do – it is the only field of medicine that is able to offer pleasure.
How was the Pharmanutra Group born?
Much passion and a simple idea: create nutritional principles that provide concrete benefits. We started with Alesco, now 16 years ago, but we would not be here today if we had chosen only to produce active ingredients to sell to other companies. Things took a totally different turn, thank God, when we did not find any companies that were courageous or reckless enough to invest in revolutionary therapeutic solutions like those we proposed. We were those that were courageous – or reckless one could say – to independently create our own products.
Did you have any experience already?
The field was totally new to us, as were its dynamics and the rules… We leaped right in, not knowing how to swim and we did it in a non-conventional way: we did not start by listening to the market or competitors, instead we began by observing people, patients and physicians. This different perspective, I would say almost the opposite, allowed us to break the red tape and get where we are today.
Did you think that you'd achieve this level of success?
If we had stopped to look at the nutraceutical market with a classic mindset I am sure that a fleeting glance would have been enough to stop us. With hindsight, if we take a look at the companies that started out with us in nutrition, there is not one that is able to keep up: our growth has been plentiful, good and healthy.
Why patent iron and what lead you to do so?
Medicine has been trying to find a way to administer iron without having it cause too much damage to us for two hundred years. The first iron supplement were nails hammered into apples: no one knew how to take it. We asked ourselves what we needed the most in terms of nutrition and integration. That was our starting point and we have done nothing else but use the systems used in the animal feed industry for over twenty years.
That means?
Incorporating animal nutrition with phospholipids and sucresters, a common practice for some time, but no one had ever thought of applying these principles to improve nutrition for humans.
So much water has gone under the bridge from cattle to the patent that became the product of the year at the 2016 NIA, why is your SiderrAL so special?
Our SiderAL is a revolution. Iron is the strangest and most peculiar active ingredient, and the modern diet always offers us less of it. It's such an important ingredient that the body only wants a little, because otherwise it will damage the entire digestive system. Iron is bad: we harm ourselves if we take too much, but we die without it. Making it good is our revolution.
How did you manage this?
In essence we took iron and encapsulated it inside a double coating: it prevents damage to the digestive system and increases absorption.
Ours is a sucrosomial® iron and it is prepared like a cream puff: the chocolate is iron pyrophosphate; the pastry, the first coating, is the phospholipid membrane; the sucrester is the icing, the second coating. Sucrester is the magic frosting of our patent because it has the dual function of protecting the iron from stomach acid while binding it to the enterocytes.
In other words, you hide it…
Basically, it would be another metaphor of the Trojan horse. Iron metabolism as we said is difficult to manage for the organism: it is seen as toxic by the gastric system and then expelled, for the most part. We created our Trojan horse by enclosing it with a double layer that tricks our digestive tract and delivers the iron to where it is needed. Therefore our supplements do not have high dosages: the iron is absorbed completely.
So your vision worked out? And after SiderAL?
It wasn't a vision but more of a different outlook. We listened to patients and leveraged our experience in the field of animal nutrition. After iron we applied the sucrosomial® technology to other micronutrients such as magnesium, iodine, zinc… and this Trojan horse yields success every time!
Personally I look ahead now because I think I'm just at the start. We are convinced that we can do much more, and that other technologies are yet to be discovered and created.
What lesson did all of this teach you?
I became aware of something in the past few years and I refer to the companies that were with us at the start: no crisis can ever undermine innovation or anything created that truly improves the quality of life of people. In this way, companies grow well and in a healthy manner, by giving jobs and creating value.